Friday, July 25, 2014 -


2 Members Online | 0 Anonymous Online | 15 Guests Online | 17 Total Online | 23 Visitors Today
951 Total Members | With 897 Male Members | And 55 Female Members | And 2 That Are Not Sure
There Are 15755 PM's In The System | 5 PM's Sent And Received Within The Last 24 Hours
There Are 44 Forums | With 10354 Topics | And 89121 Posts
Members Currently Online: (Walt - 14 Visits Today),
GoingInCirclez.com
February 01 2011




Click above image to view the site



Very informative website by GoingInCirclez regarding all aspects of Tyco Trains. Large picture catalog of Tyco Items. Well done. Currently undergoing some reconstruction.
HO SEEKER
December 09 2009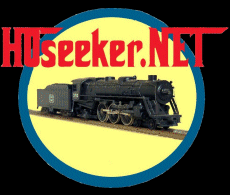 Click above image to view the site



You will find within this site many items that may assist you in repairing, identifying and collecting HO Trains. Listed in the "Literature Section" are Assembly Diagrams with Part Numbers for many different HO train engines and rolling stock. This includes Athearn, Bowser, Globe, Penn Line, Kato, Model Power, Model Die Casting, Roundhouse, Mantua, Tyco, AHM, Rivarossi, Bachmann, Varney, and many more. Additionally, Catalogs, Brochures and Product Sales Lists for these trains can be referenced here.
New Tyco Collector's Photo Album on the way!
November 10 2009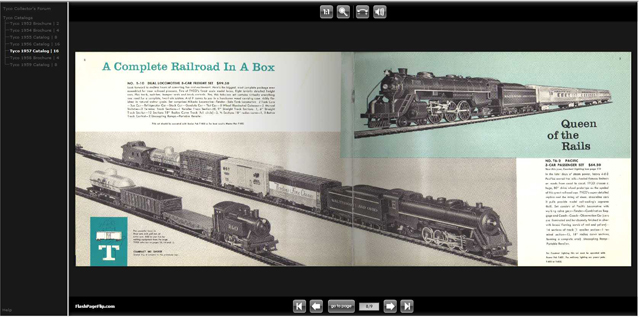 Click above image to launch Photo Album



Take a gander at the beginnings of our photo album of Tyco. More details will follow next week regarding the structure, content, purpose and requirements for the album. The intent is to be as inclusive of all members as possible with the goal of covering everything Tyco.

Loopy got me started on this with the 1950's catalogs.
Click for more news
Posted by kovacste000 On July 20 2014 At 10:26:14 AM
| | |
| --- | --- |
| | My LOTW this week is an N scale Arnold Alco S-2 switcher in Milwaukee Road livery. It doesn't run too bad. Just needs a little cleaning.I also got this in a free lot with a ton of model railroading scenery, N scale rolling stock, etc. |
Posted by metalsmith1 On July 13 2014 At 12:49:41 AM
| | |
| --- | --- |
| | I thought we would start out the locomotive of the week with something big.This is a U.P.Veranda Turbine that is running on the L,C & P along with a U.P. DD-40 both from Athearn |
Posted by Chops124 On July 06 2014 At 03:22:14 AM
Twist on a fallen flag. AHM C-liner and AHM coaches, former Daylights.

Having wrestled with you tube, I think I got it fixed now. This video of this train is a
spoof on the iconic Western: "The Good, the Bad, and the Ugly."



Now to see it in motion, click on the link below:

https://www.youtube.com/watch?v=ykT39gJTQtg#t=12
There are no events for this date.
Upcoming Events
There are no Upcoming Events.
Recent Events