Tuesday, March 31, 2015 -


0 Members Online | 0 Anonymous Online | 14 Guests Online | 14 Total Online | 15 Visitors Today
1003 Total Members | With 946 Male Members | And 58 Female Members | And 2 That Are Not Sure
There Are 16614 PM's In The System | 13 PM's Sent And Received Within The Last 24 Hours
There Are 44 Forums | With 11287 Topics | And 101379 Posts
Members Currently Online:
GoingInCirclez.com
February 01 2011




Click above image to view the site



Very informative website by GoingInCirclez regarding all aspects of Tyco Trains. Large picture catalog of Tyco Items. Well done. Currently undergoing some reconstruction.
HO SEEKER
December 09 2009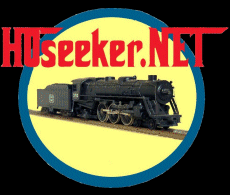 Click above image to view the site



You will find within this site many items that may assist you in repairing, identifying and collecting HO Trains. Listed in the "Literature Section" are Assembly Diagrams with Part Numbers for many different HO train engines and rolling stock. This includes Athearn, Bowser, Globe, Penn Line, Kato, Model Power, Model Die Casting, Roundhouse, Mantua, Tyco, AHM, Rivarossi, Bachmann, Varney, and many more. Additionally, Catalogs, Brochures and Product Sales Lists for these trains can be referenced here.
New Tyco Collector's Photo Album on the way!
November 10 2009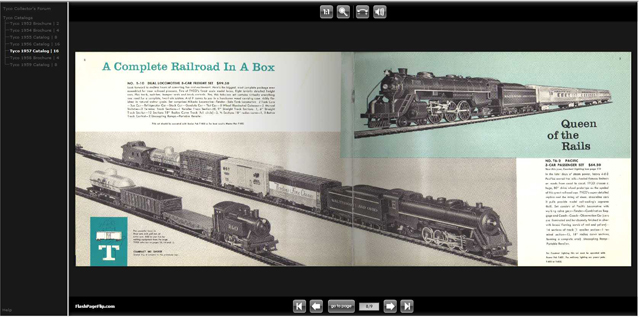 Click above image to launch Photo Album



Take a gander at the beginnings of our photo album of Tyco. More details will follow next week regarding the structure, content, purpose and requirements for the album. The intent is to be as inclusive of all members as possible with the goal of covering everything Tyco.

Loopy got me started on this with the 1950's catalogs.
Click for more news
Posted by kovacste000 On March 29 2015 At 10:59:05 AM
| | |
| --- | --- |
| | Hey, my LOTW for this week is a Playart 0-4-0 I got at my grandparent's house a week ago.I ended up giving this cute little loco to my little brother after cleaning it and fixing it up. |
Posted by AMC_Gremlin_GT On March 22 2015 At 08:18:56 AM
Hauled this one off the thrift store pegs last week, what a find, only $5, a Walthers Train Line engine, retails over $70 new. Wheels were totally dirty, and contacts to wheels weren't even touching, but a bit of time with the Dremel wire wheel brush and some pliers, and it's running like a champ again! Dual flywheels, very nice near mint condition, it runs smoothly and silently now ( just silent before ). I've been hoping to one day see some trains at the thrift store, this one and the JOTW post were both picked up together. Not sure I'll get that lucky again anytime soon, especially such a nice unit as the Walthers for $5, but will take my good luck where I can!

Jerry


Posted by PGE33 On March 15 2015 At 09:27:39 AM
Picked this one up on Wed. at the Railhead.
Hobbytown RS-3.
I had to do a little tweak on the drive truck, as the base plate was slightly bowed.
This made the gears slip apart enough to spin free.
I put a bit of shim stock in, and good to go.
Still need to clean up a little more flash on the railings, etc.
I'd like to find a front power truck kit for it.
Note the teeny wheels!

Evan

There are no events for this date.
Upcoming Events
There are no Upcoming Events.
Recent Events