Saturday, November 01, 2014 -


1 Members Online | 0 Anonymous Online | 15 Guests Online | 16 Total Online | 4 Visitors Today
961 Total Members | With 907 Male Members | And 55 Female Members | And 2 That Are Not Sure
There Are 16296 PM's In The System | 8 PM's Sent And Received Within The Last 24 Hours
There Are 44 Forums | With 10718 Topics | And 93593 Posts
Members Currently Online: (eldncn - 1 Visits Today),
GoingInCirclez.com
February 01 2011




Click above image to view the site



Very informative website by GoingInCirclez regarding all aspects of Tyco Trains. Large picture catalog of Tyco Items. Well done. Currently undergoing some reconstruction.
HO SEEKER
December 09 2009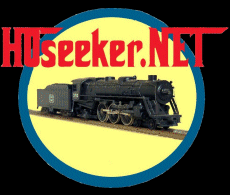 Click above image to view the site



You will find within this site many items that may assist you in repairing, identifying and collecting HO Trains. Listed in the "Literature Section" are Assembly Diagrams with Part Numbers for many different HO train engines and rolling stock. This includes Athearn, Bowser, Globe, Penn Line, Kato, Model Power, Model Die Casting, Roundhouse, Mantua, Tyco, AHM, Rivarossi, Bachmann, Varney, and many more. Additionally, Catalogs, Brochures and Product Sales Lists for these trains can be referenced here.
New Tyco Collector's Photo Album on the way!
November 10 2009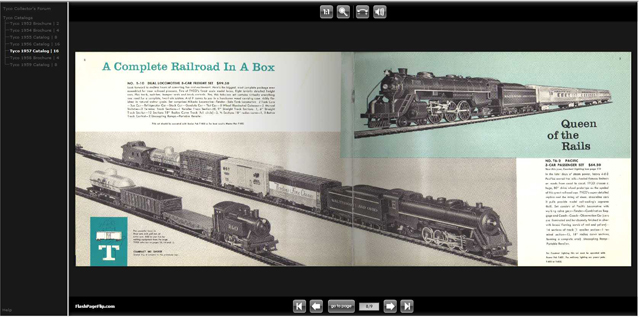 Click above image to launch Photo Album



Take a gander at the beginnings of our photo album of Tyco. More details will follow next week regarding the structure, content, purpose and requirements for the album. The intent is to be as inclusive of all members as possible with the goal of covering everything Tyco.

Loopy got me started on this with the 1950's catalogs.
Click for more news
Posted by JRG1951 On October 26 2014 At 03:17:57 AM
My LOTW is a Texas & Rio Grande Bachmann 0-6-0 switcher with a MDC tender and a fabricated pilot.



Regards, John ***************************

My choice early in life was either to be a piano-player in a whorehouse or a politician. And to tell the truth, there's hardly any difference. <> Harry S. Truman
Posted by AMC_Gremlin_GT On October 19 2014 At 01:38:39 AM
Doubling your viewing pleasure, I bought this engine from my boss after he bought an estate lot of HO and N trains a few months ago, I finally got it this past week. Why is it doubled? This is one of those rare dual motor Tyco engines. I've never seen one before. This one has two MU-2 motors, and they're held together with screws, not rivets. Pretty neat. I'm not a NYC fan, but due to the fact that it is probably an original dual motor Tyco, I wanted it. The front motor is not held in, I need to see if the engaging clip is broken, or just needs to be popped back in place. I have the parts to fix it either way.

Jerry


Posted by AMC_Gremlin_GT On October 12 2014 At 09:31:31 AM
Starting off large this week, one of my Lionel 0-27 engines, dug it out while cleaning up yesterday, going to take it in to my hobby job today to see if it runs. Has some rust on the wheels and axles, and oxidation, but not in real bad shape. Got it at an auction a few years back. #2037, made from 1953 through 64 in two separate runs, a fairly common Prairie type 2-6-4 for Lionel, with the whistling tender 6026W, I think. Much better unit than my old Scout type 2-4-2 I had as a child!

Jerry


There are no events for this date.