Tuesday, January 27, 2015 -


3 Members Online | 0 Anonymous Online | 14 Guests Online | 17 Total Online | 32 Visitors Today
972 Total Members | With 916 Male Members | And 57 Female Members | And 2 That Are Not Sure
There Are 16859 PM's In The System | 11 PM's Sent And Received Within The Last 24 Hours
There Are 44 Forums | With 11058 Topics | And 98353 Posts
Members Currently Online: (wildecoupe - 14 Visits Today), (pge33 - 5 Visits Today),
GoingInCirclez.com
February 01 2011




Click above image to view the site



Very informative website by GoingInCirclez regarding all aspects of Tyco Trains. Large picture catalog of Tyco Items. Well done. Currently undergoing some reconstruction.
HO SEEKER
December 09 2009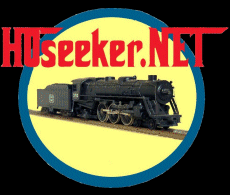 Click above image to view the site



You will find within this site many items that may assist you in repairing, identifying and collecting HO Trains. Listed in the "Literature Section" are Assembly Diagrams with Part Numbers for many different HO train engines and rolling stock. This includes Athearn, Bowser, Globe, Penn Line, Kato, Model Power, Model Die Casting, Roundhouse, Mantua, Tyco, AHM, Rivarossi, Bachmann, Varney, and many more. Additionally, Catalogs, Brochures and Product Sales Lists for these trains can be referenced here.
New Tyco Collector's Photo Album on the way!
November 10 2009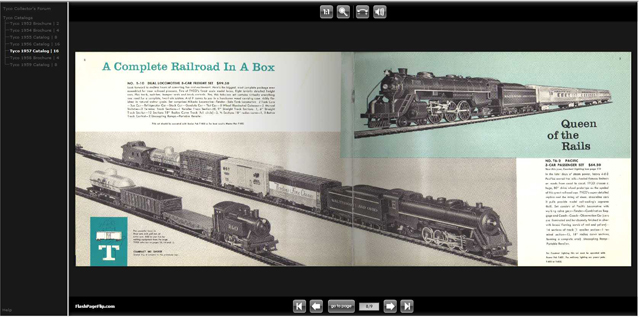 Click above image to launch Photo Album



Take a gander at the beginnings of our photo album of Tyco. More details will follow next week regarding the structure, content, purpose and requirements for the album. The intent is to be as inclusive of all members as possible with the goal of covering everything Tyco.

Loopy got me started on this with the 1950's catalogs.
Click for more news
Posted by AMC_Gremlin_GT On January 25 2015 At 09:19:24 AM
Starting off this week's LOTW with some Traction action, here's two trolley cars by Greenlines, not a well-known maker anymore. I had to do some research to find out who made these. They seem to run pretty good, once they're cleaned up and lubed properly ( like most HO ). I think I have another Greenlines in pieces as well. Don't see them often at shows.

Jerry in VA


Posted by kovacste000 On January 18 2015 At 10:40:28 AM
| | |
| --- | --- |
| | My LOTW for this week is a circa 1980 Bachmann Western Pacific Daylight that we got from a seller which all the stuff he had there was locked up somewhere for more than 30 years.That means they're all pristine. On top of that, the locomotive runs better than I thought it would.Too bad it'll eventually get the cracked axle issue most Bachmanns suffered back in the day. It was a Christmas gift for my brother in case you guys were wondering why we bought it anyway. |
Posted by Chops124 On January 11 2015 At 11:43:39 AM

A tribute to WKS. Believe it or not, I recently finished running this old AHM
off an open lift gate at the El Paso Model Train Club. It fell three feet and
was dashed to smithereens on the concrete floor. To my lasting astonishment,
my friend Moose Yarborough pieced every tiny bit, steps and all, back together
perfectly and it looks like new and runs like a charm. Incidentally, in or about
1882, a Central of Vermont locomotive backed two packed work coaches over
a precipice where a bridge was being erected, in Northfield, Massachusetts.
The results were much, much worse.
There are no events for this date.