Saturday, May 23, 2015 -


0 Members Online | 0 Anonymous Online | 12 Guests Online | 12 Total Online | 11 Visitors Today
1026 Total Members | With 967 Male Members | And 60 Female Members | And 2 That Are Not Sure
There Are 16891 PM's In The System | 17 PM's Sent And Received Within The Last 24 Hours
There Are 44 Forums | With 11450 Topics | And 103564 Posts
Members Currently Online:
GoingInCirclez.com
February 01 2011




Click above image to view the site



Very informative website by GoingInCirclez regarding all aspects of Tyco Trains. Large picture catalog of Tyco Items. Well done. Currently undergoing some reconstruction.
HO SEEKER
December 09 2009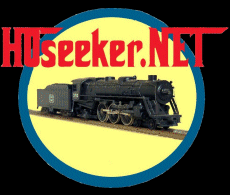 Click above image to view the site



You will find within this site many items that may assist you in repairing, identifying and collecting HO Trains. Listed in the "Literature Section" are Assembly Diagrams with Part Numbers for many different HO train engines and rolling stock. This includes Athearn, Bowser, Globe, Penn Line, Kato, Model Power, Model Die Casting, Roundhouse, Mantua, Tyco, AHM, Rivarossi, Bachmann, Varney, and many more. Additionally, Catalogs, Brochures and Product Sales Lists for these trains can be referenced here.
New Tyco Collector's Photo Album on the way!
November 10 2009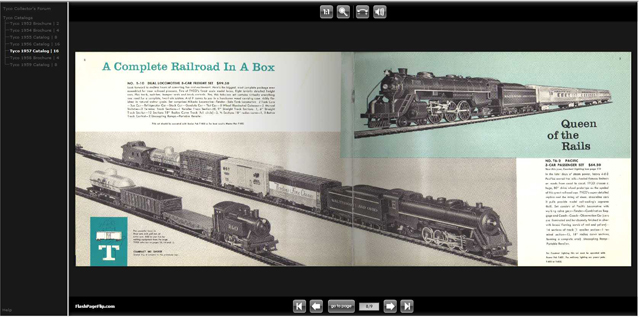 Click above image to launch Photo Album



Take a gander at the beginnings of our photo album of Tyco. More details will follow next week regarding the structure, content, purpose and requirements for the album. The intent is to be as inclusive of all members as possible with the goal of covering everything Tyco.

Loopy got me started on this with the 1950's catalogs.
Click for more news
Posted by oldtimer52 On May 17 2015 At 3:06:28 PM
Looks like I ge3t to start this weeks LOTW. I'm going to use my recent find of an
Tenshendo FT diesel that I got on evilbay for $32. The loco was $20 and the shipping
$12, so I couldn't pass up a brass loco for that price.



I've found a replacement horn and am going to restore it. After polishing the shell and
cleaning and lubing, I'll give it a clear cote and just keep it like that. Thanks to all of
the guys who helped me identify it.
Posted by kovacste000 On May 10 2015 At 11:20:36 AM
| | |
| --- | --- |
| | My contribution to this week's LOTW is a Mehano-made Bachmann GP-18. It's actually quite a solid runner. |
Posted by AMC_Gremlin_GT On May 03 2015 At 09:29:46 AM
Blasting out the starting grid this week, I received one of my most-wanted finds this past week, an Atlas Turbo Racer. Built on an Athearn Hi-F Hustler chassis with modified bracket and a bigger motor and long shaft, I got it for an amazing $5.80, usually they sell well north of $40 each on Ebay. I was VERY happy to finally get one of these ( at a very reasonable price ). I intend to DCC it, much like my transparent Huster, and run it at train shows. The original prop was missing one of the 4 blades, but I went to my local R/C flying shops, and found some packages of drone props, 2 are pushers, 2 are pullers. So I got a nice thin prop that looks a tad more realistic, and has the right angle as well! These pics are from the Ebay purchase, not my own yet. Will post more later.

Jerry


There are no events for this date.
Upcoming Events
Recent Events