Tuesday, November 25, 2014 -


1 Members Online | 0 Anonymous Online | 25 Guests Online | 26 Total Online | 37 Visitors Today
964 Total Members | With 908 Male Members | And 57 Female Members | And 2 That Are Not Sure
There Are 16413 PM's In The System | 19 PM's Sent And Received Within The Last 24 Hours
There Are 44 Forums | With 10818 Topics | And 94943 Posts
Members Currently Online: (parts323 - 3 Visits Today), (oldtimer52 - 4 Visits Today),
GoingInCirclez.com
February 01 2011




Click above image to view the site



Very informative website by GoingInCirclez regarding all aspects of Tyco Trains. Large picture catalog of Tyco Items. Well done. Currently undergoing some reconstruction.
HO SEEKER
December 09 2009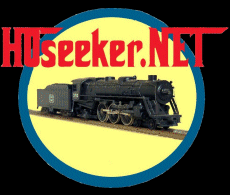 Click above image to view the site



You will find within this site many items that may assist you in repairing, identifying and collecting HO Trains. Listed in the "Literature Section" are Assembly Diagrams with Part Numbers for many different HO train engines and rolling stock. This includes Athearn, Bowser, Globe, Penn Line, Kato, Model Power, Model Die Casting, Roundhouse, Mantua, Tyco, AHM, Rivarossi, Bachmann, Varney, and many more. Additionally, Catalogs, Brochures and Product Sales Lists for these trains can be referenced here.
New Tyco Collector's Photo Album on the way!
November 10 2009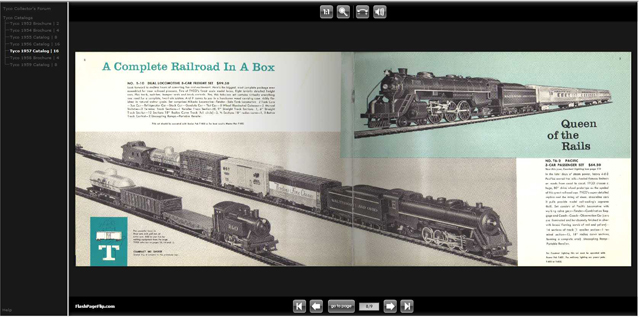 Click above image to launch Photo Album



Take a gander at the beginnings of our photo album of Tyco. More details will follow next week regarding the structure, content, purpose and requirements for the album. The intent is to be as inclusive of all members as possible with the goal of covering everything Tyco.

Loopy got me started on this with the 1950's catalogs.
Click for more news
Posted by PGE33 On November 23 2014 At 12:37:01 PM
I got this from the LHS a few weeks ago.
I think it's unique enough to add to my collection.
This company had promise, but they seemed to just vanish after a few product releases.
GSB Rail Ltd. SD40-2 in custom CP paint made for C&S rail, a division of Pacific Scale Rail.
Evan

Posted by AMC_Gremlin_GT On November 16 2014 At 10:13:10 AM
Lighting up today's LOTW first, I found this Lionel/Athean E33 unit at the Timonium show, missing the pantograph, but otherwise complete. Haven't tried to fry, er, try it yet though. It's been repainted, but the original blue Virginian paint scheme is visible on the inside of the shell. Might try to strip it a bit to see if I can get the newer paint off. Anyway, the price was VERY right, couldn't pass up this one.

jerry


Posted by AMC_Gremlin_GT On November 09 2014 At 10:11:03 AM
Going Canadian this week, my CP purchase from the Timonium, MD show. Needs a power truck, but I have those to replace the missing unit. Will probably build a small CP consist, I just saw some CP tyco boxcars at the shop getting priced, will get all 3 colors to pull behind this unit. :)

Jerry


Events happening today:
---
New Erie area model railroad club kickoff meeting
Copypasta...are there any model railroaders here from the Erie, Pa area?

"A new Club for HO Scale Model Railroaders is currently being formed in the Erie area.
We plan to revive, operate, and vastly improve a dismantled HO Free-mo layout.
[this is the layout operated by the former Elk valley club]
Our first meeting will be Tuesday, November 25, 2014, at the Erie Makerspace,
181 West 14th Street (Union Station), Erie, Pennsylvania, 7:00-9:00 PM.
The meeting is free. All are welcome and no experience is necessary. "

For more information contact Autobus Prime [here] or Bryan "Shayman" Yosten - Email cjshayman@gmail.com

Posted by Autobus Prime

---